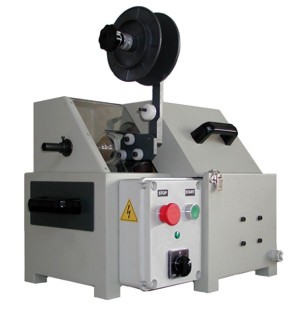 Inventory Number: AMMF-C

Technical Specifications:



New Semi-Automatic machinery for the production of solid links & rings This machine winds and cuts in each revelation of the arbor,it feeds in a solid wire that that is cut off on each revolution generating a link or ring based on the arbor size.

Technical Data:
Weight 31Kg
Size 37x44x35
Electric network 220 Volt - 50/60 HZ - WATT 250
Max thread diameter - 1.20 mm
Max internal ring diameter - 10 mm
Production N.12000 one spiral rings production per hour (max. speed)
System functioning

Cut by axial deplacement by knife
Available With a variety Of Tooling Sizes To Produce Different Diameters of Solid Links /Rings.
Accessories:
Solid Wire Feeder - COD. 13, price: €1.980,00
AUTOMATIC MACHINE WITH MANUAL DRIVE FOR THE PRODUCTION OF VARIFORM RINGS - COD. 15, price: €2.040,00
EQUIPMENT FOR RING MACHINE ROUND - COD.05/01, price: €180,00
EQUIPMENT FOR RING MACHINE OVAL - COD.05/02, price: €216,00
EQUIPMENT FOR RING MACHINE SQUARE - COD.05/03, price: €226,00
EQUIPMENT FOR RING MACHINE RECTANGULAR - COD.05/03R, price: €226,00
EQUIPMENT FOR RIG MACHINE TRIANGULAR - COD.05/04, price: €226,00
EQUIPMENT FOR RING MACHINE A GOCCIA - COD.05/03G, price: €226,00
MANDREL STANDARD, ART. 05/19 price: €44,80
KNIFE HOLDER ROUND, ART. 05/10 price: €37,50
COMPASS PINION ROUND, ART. 05/05 price: €96,70
KNIFE HOLDER OVAL, ART. 05/11 price: €58,80
COMPASS PINION OVAL, ART. 05/06 price: €110,40
KNIFE HOLDER ESQUARE, ART. 05/12 price: €61,45
COMPASS PINION ESQUARE, ART. 05/07 price: €118,75
KNIFE HOLDER RECTANGULAR, ART. 05/14 price: €61,45
COMPASS PINION RECTANGULAR, ART. 05/08 price: €118,75
KNIFE HOLDER TRIANGULAR, ART. 05/13 price: €61,45
COMPASS PINION TRIANGULAR, ART. 05/09 price: €118,75
KNIFE HOLDER GOCCIA, ART, 05/16 price: €61,45
COMPASS PINION GOCCIA, ART, 05/09G price: €118,75