Inventory Number: 1196-385

Technical Specifications:


115V/1PH/60HZ
Swing over bed: 8"
Distance between centers: 20"
Speeds: 6
Motor: 1/2 HP, 1725 RPM
Overall bed length: 37"
Overall dimensions: 61"(l) x 26"(d) x 75" high
Estimated weight: 700 lbs.
Equipped With:
Counter shaft overhead flat belt drive system
Dual foot pedal operated belt guides
Hand wheel draw bar
35 - assorted #3 AM collets
3-Jaw & 4-Jaw chucks
Live center
Jacobs 1/2" drill chuck for tailstock
Compound tool slide
6" face plate
Tool post ring/rocker
Steady rest
Extra draw bar
Wood bench
History: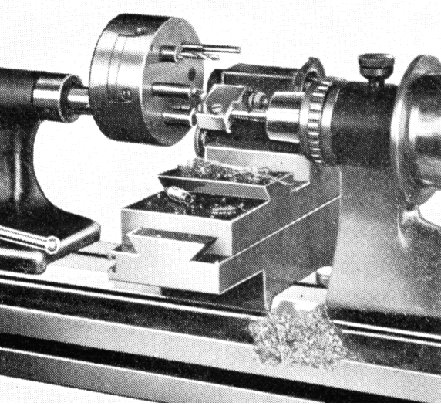 Once a commonly available accessory for small lathes, the tailstock-mounted indexing turret was a simple and economical way of producing small batches of components.
An ordinary screw-feed tailstock barrel would have slowed the process up more than somewhat, but if lever or rack-operated, and with light work, respectable rates of production could be achieved with very simple tooling
End view of bed showing the double ring of 60 and 72 indexing holes on the spindle-pulley flange.
--
Click On Images To View Full Size: